Reconnecting with nature on the Wild Ride
Information
Duration- 2 options:

5 days and 4 nights
Three days and two nights

Accommodation- Stopover gites and bivouac
Departure from Cavalquinta – Return to Cavalquinta
If you wish to go on this trek with your own horse – please contact us
Recommendations
Target riders- from 12-14 years old
Required level – comfortable with the three paces and in a good physical condition
Rate
Two-night option: €390 per person – (supplies service and accommodation included)
Four-night option: €730 per person – (supplies service and accommodation included)
Payment by cheque or cash (credit or debit card not accepted)
The Wild Ride is Cavalquinta's trek. This year, in response to your requests, we are offering two options during the same week: a one-week trek (5d/4n) or an extended weekend trek (3d/2n).
What makes the Wild Ride original is that we don't have a set itinerary; we leave with just the final destination in mind – the majestic Gorges du Tarn and the magnificent Causse Méjean where the Aveyron, Lozère and Gard departments meet.
We'll go north from the Quintanel, exploring the omnipresent summer fauna and flora. We'll take the trek trails and itineraries that mark out the Lingas and Algoual mountains.
On this trek we'll see breathtaking scenery, in an outstanding natural environment. We'll step into the unknown as we let the horses define our itinerary. We'll sleep either in a gite or a bivouac. Here, the evenings are long and the sunsets resplendent in the summer season and it will most certainly take your breath away.
The Wild Ride is available all year long, subject to reservation, regardless of weather conditions. No set itinerary but one set destination, before heading back to the farm. We offer a unique and original trek in a professional framework, which guarantees your safety and peace of mind while you discover superb landscapes.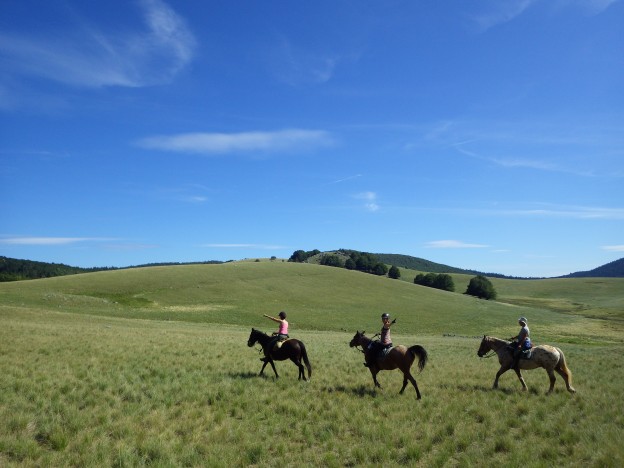 Following the VAT increase on equestrian businesses, we are constrained to apply the 20% rate instead of the previously applied 7%.