Robin was born in Ganges in 1983. He went into horse riding very young. At 10 years old, he greeted Gavotte and Galinette, his two first mares. Galinette gave birth to many foals such as Naïda Del Quinta or Psymon Del Quinta. Robin then started breading rustic horses to go on equestrian treks. Gavotte became the leader mare and symbol of Cavalquinta for many years, before a well-deserved retirement and being replaced with Psymon.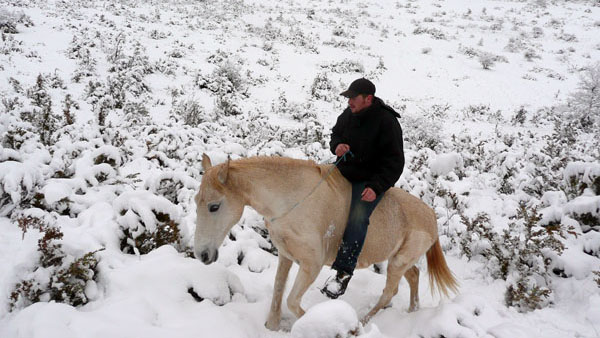 Robin, horse riding guide
In 1999, Robin took a Professional Baccalaureate at the Lycée Vaxergues in Saint-Affrique, in the Aveyron department. At the same time he took the ATE diploma (Guide for equestrian tourism-accompagnateur de tourisme équestre), which he passed in 2003. Throughout his ATE course, he trained at Cucuron with Robi Muller, part of the master-trekker descendants. He travelled to the Luberon, the Queyras valley, and in Italy. After he passed the ATE course and his baccalaureate, he went back to the Quintanel, land of his childhood to help his parents with the breeding of dairy sheeps. He created Cavalquinta in 2005, offering treks and horse boarding. He also rearranged the business in order to accommodate horses and riders.
The centre has been growing ever since. Robin now provides a wider service panel through the implementation of other activities such as short rides and mating. In 2013, he took over his parents' farming business and started new projects on the farm such as the beginning of important works.
2015 is marked by many changes with the launch of the equestrian stopover gite of the Quintanel http://www.caval-quinta.fr/gite-detape/ and the development of a stable and an arena to accommodate visitors, whether riders or not, and boarded horses' owners. The aim of the project is to offer the best comfort to everyone with a view to always provide Cavalquinta's top quality services.
Robin is constantly thinking about creating new treks, in the Pyrenees or in Iceland for instance. He seeks adventure and loves discovering other parts of the world. Since 2009, he has travelled to Iceland, Lapland, Thailand, Morocco, Scotland and Corsica. He enjoys mixing hard work and fun by conceiving equestrian treks wherever he goes.
In 2015, he is going on a 15-day trek from the Cirque de Navacelles to the Mount Canigou in the Eastern Pyrenees. This project means a lot to him for he initiated it via a regional organisation that gathers professionals from the equestrian tourism sector in the Languedoc-Roussillon region http://www.chevauchees-du-sud.com/ and will be launched this year.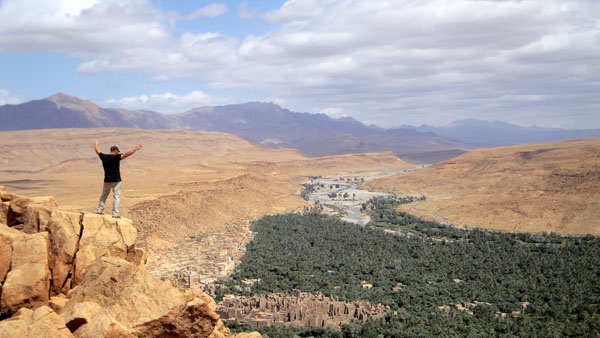 Robin exploring Morocco
Languages spoken
Other passions
Hiking
Speleology
Canyoning
Chocolate!
Qualifications
Professional Baccalaureate CGEA (Farming business practices and management) – 2003
ATE (Guide for equestrian tourism) – 2003