Novelty 2016
Launch an attack on Auvergne volcanoes !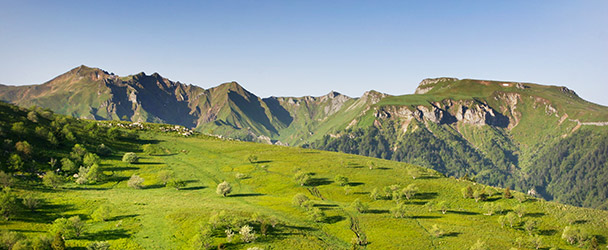 In the continuity of the big crossings, this year Robin suggests you leaving in the direction of the volcanoes of Auvergne, and the mythical Dome of Sancy!
Direction due north, you will leave since the South of Aigoual to the discovery of the magnificent landscapes of Lozère, which you will cross from south to north. The Mount Lozère reach out to you… Stay on course in the direction of Saint Flour, intermediate stage of this big ride, where horses and riders will have a well deserved break.
Then you will discover the magnificent volcanoes of Cantal, which you will follow until arrive with the aim of the most majestic of them, the Puy de Sancy, which peaks in 1886m of height. Peak of Massif Central, the Massif of Sancy consists of strato-volcanoes, that is several imbricated volcanoes some in the others, what gives these landscapes so particular.
Taking place largely in the Regional Natural reserve of the Volcanoes of Auvergne, this ride will offer you mind-blowing landscapes and guaranteed sensations!
Informations
Duration – twice 6 days of horse ridding
Firts week: 6 days/ 6 nights – 6 days from monday to saturday
Second week: 5 days/ 5 nights – 5 days from monday to friday
Hébergement – Gîtes d'étape, auberges et gîtes.
If you wish to go on this trek with your own horse – please contact us
From the 22th of August to 2nd os September 2016
Recommandations
Target riders- from 14 years old
Required level – comfortable with the three paces and in a good physical condition
Rates
For this first edition we propose you a special rate!
First week 6 days – 890 € per person
Second week 5 days – 730 € per person
Payment by cheque or cash (credit or debit card not accepted)