Find here a list (not exhaustive) of the places to taste our good local products!
The farmer markets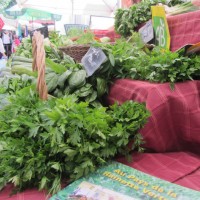 The city of Le Vigan (30 minutes of Quintanel) proposes all year a big market every Saturday morning, as well as a farmer market from May till October, every Tuesday morning with tasting.
Ganges organize all year a big market every Friday morning, and a food market every Tuesday morning.
Finally, a night-market takes place to Campestre et Luc every Friday evening of July and August.
---
Our farmer friends in direct selling
Direct selling in the farm near Quintanel. Do not forget to phone before moving you, as all the farmers they are most of the time in fields!
Pélardon AOP (famous goat's cheese) in Vissec. « Les chevriers d'Altou », CHAHOUR-PERIER familly.
(+33)4 67 81 03 92
Sheep's cheese in Vissec. « La bergerie de la Baute », Anaïs and Benjamin RAY.
(+33)6 64 15 59 99
Aubrac beef and veal meet in Rogue. « Domaine des Aubracs », Christelle RODIER.
(+33)6 08 10 63 76
Organic trout from the Vis river in Gornies. « Domaine de Bel Air », Robert THIERRY.
(+33)6 85 99 42 91
Free-range chickens, eggs, guinea fowls,… in Campestre et Luc. Hervé FLEURY.
(+33)4 67 82 01 82
---
Farmer's shop

They are managed by a grouping of producing farmers, you are assured to find there only local products!
Ganges: Au grè des saisons – avenue du Mont Aigoual
Le Vigan: Aura des champs – Place Ste Euzéby
---
Restaurants nearby
A lot of restaurants are present on Ganges and Le Vigan, as well as in the cities near Blandas. We present you here our closest favorites, where you can taste our local products in an excellent and sophisticated cooking.